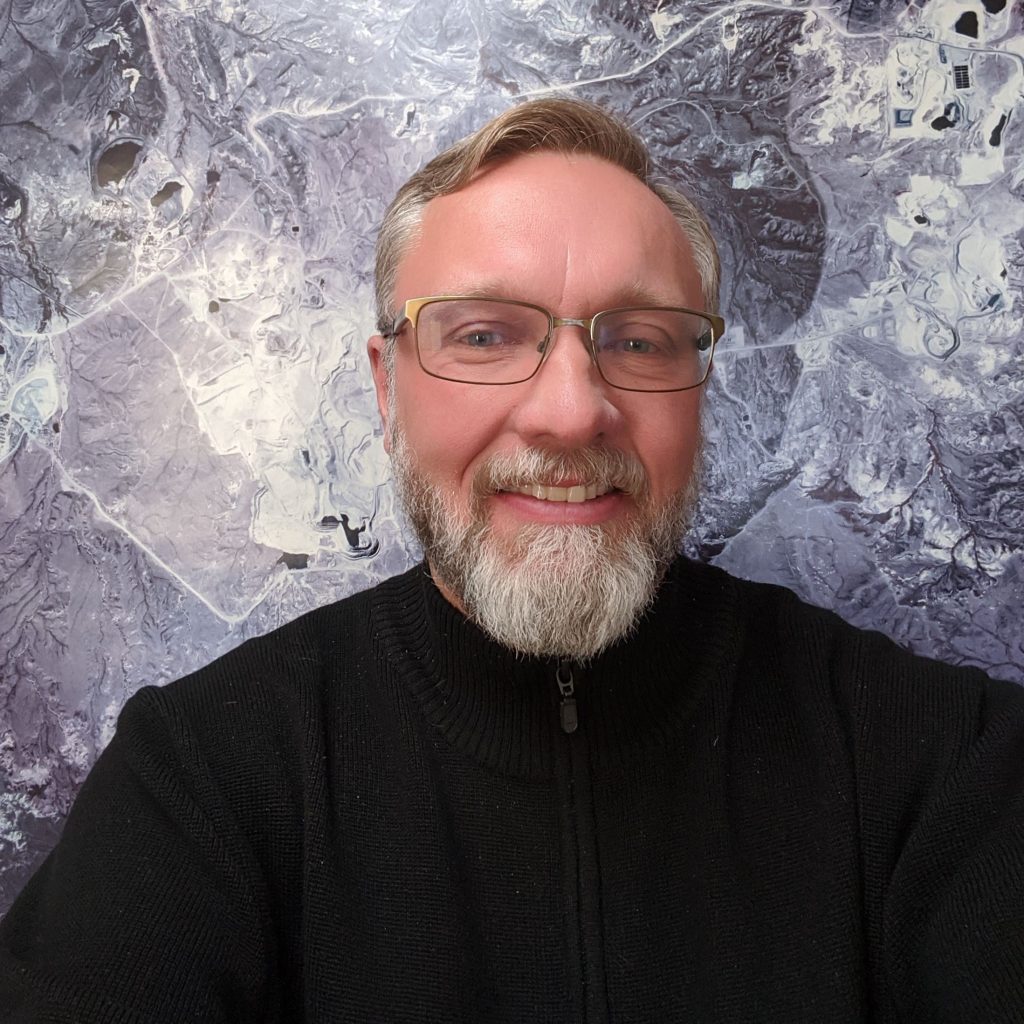 Senior Engineer
BS Geological Engineering, Colorado School of Mines
Geology, Civil And Mine Engineering, Environmental Permitting, Mine Land Reclamation, And Project Management
Professional Experience
Mine Reclamation:
Mr. Hutson has participated in various roles on mine reclamation projects for 25 years in Wyoming. Prior to registration as both a Professional Engineer and Professional Geologist, Mr. Hutson performed site inspection, construction management, surveying, geologic investigation, and design tasks for both surface and underground mine reclamation projects. Recent project roles include Project Manager and Project Engineer for multiple large reclamation projects. Mr. Hutson's current responsibilities include project management, directing and participation in site investigations, surface water hydrology, earthworks design, cost estimation, preparation of plans and specifications, and contract administration.
AML 16O – McIntosh Project: Mr. Hutson is the Project Manager of the McIntosh Project, which includes the reclamation of a large open pit uranium mine featuring highwalls up to 500' tall, and a pit filled with over a billion gallons of ground water with elevated radionuclides to manage during backfill operations. Special project challenges include the preservation and improvement of an existing fishery, specialized tree salvage and plantings, excavation in rock including blasting, and coordination with the existing mine permit holder. Final plans implement Natural Regrade geomorphic designs.
AML 16G – Day Loma Project: Mr. Hutson is the Project Manager of the Day Loma Project consisting of 1,000 acres of open pits and mine spoils. He was primarily responsible for the development of the master plan for the project including material handling and balancing, design of the unsuitable spoils disposal site, and final surface drainage considerations which emphasized Natural Regrade geomorphic design.
AML 16G – Sunrise Mine: Mr. Hutson coordinated with archaeologists and cultural preservation specialists, the land owner, and state agencies including the State Historical Preservation Office to develop reclamation plans for an unstable mine highwall that was damaging an important prehistoric Clovis site. Mr. Hutson's plans protected the cultural site from further degradation due to erosion and mass wasting, and provided for access and safety for the researchers investigating the site. The project was constructed utilizing geomorphic reclamation techniques. This project was nominated for a National Association of Abandoned Mine Lands Programs award in 2020.
LQD – Hypothetical Powder River Basin Coal Mine Reclamation Cost Estimation: Mr. Hutson provided third party reclamation cost estimation services to evaluate the Wyoming Department of Environmental Quality / Land Quality Division's guidelines for preparation of bond costs for the reclamation of large open pit coal mines in the Powder River Basin. Work included verification of project designs and volumes, analysis of proposed equipment fleets and earthwork costs, preparation of independent earthwork cost estimates, sensitivity analysis of earthworks costs to operating cost components, and costs of contingency items including mobilization, bonding, environmental monitoring, and revegetation. Comparison of the independent cost estimates were made to current LQD guidelines, and recommendations regarding future bond costs were made.
AML Project 17 H – Statewide Coal Reclamation Project: Mr. Hutson performed Project Management of this multi-year project including 15 major bid projects and several statewide contracts, all completed within budget and without any construction related claims. This project required the reclamation of many types of mine features including underground mine portals, underground mine voids and subsidence, coal mine fires, and coal waste. Five of the projects included reclamation of open pit coal mines utilizing Natural Regrade geomorphic designs for which Mr. Hutson has directed design efforts.
AML 6A-X – Rock Springs Subsidence: Mr. Hutson prepared designs and directed construction to complete the subsidence mitigation of the Tract H site using excavation methods. Mr. Hutson presented progress reports at public meetings related to this project in support of AML's public relations project. Mr. Hutson was also involved in the excavation and backfill of subsidence occurring in the Tract J Macy's Truck Stop parking lot.
AML 63-P3 – Statewide Coal: Mr. Hutson led the investigation and design of the sites currently included in the project, Monarch, Glenrock Coal, and Burning Coal Draw. Mr. Hutson completed the design of the Monarch site utilizing Natural Regrade, and construction of this site was completed in 2013. The Dave Johnston coal mine near Glenrock was the second project under this contract to reclaim multiple pre-law spoils areas with Natural Regrade geomorphic reclamation designs.
AML 8.1 and 8.1-II – Statewide Abandoned Mine Land Inventory: These projects pioneered use of historic mine mapping to aid mine inventories. BRS participated in both inventory projects for both coal and non-coal including the majority of the uranium projects. Mr. Hutson led field investigation teams and prepared conceptual designs and cost estimates for various sites.
AML 16 N – D9 & K Pit Reclamation Project: This project reclaimed over 8,800 linear feet of highwall, restoring 235 acres of intensely disturbed mine lands, and was the first project to utilize Natural Regrade methods in Wyoming. Mr. Hutson was responsible for creating the first Natural Regrade designs, negotiating with the contractor to implement the designs, and followed the project through completion.
AML 16 J – Central Gas Hills Reclamation Project: This multi-phase project reclaimed 445 acres of open pits with up to 400 foot highwalls situated above a ground water fed impoundment. Mr. Hutson was the project engineer during site investigation, design and construction management.
AML Project 16 L – Sunset Pit Reclamation Project: This required treatment acid mine waters with elevated radionuclides in a ground water impoundment with 200 foot highwalls. Mr. Hutson was the project engineer during site investigation, design, and construction management.
AML 16 A & F – John Gunnel and Andria Hunter Reclamation Projects: Mr. Hutson performed project design and construction management for these smaller pit projects involving extensive hydrological designs.
AML 16 B – George and Bullrush Reclamation Projects: Mr. Hutson performed construction management on these large traditional reclamation projects.
Natural Regrade, Geomorphic Mine Land Reclamation:
Mr. Hutson first utilized Carlson's Natural RegradeTM software in 2007 to design the reclamation and stabilization of abandoned open pit uranium mine spoils under AML Project 16N, located in the Gas Hills Uranium District in central Wyoming. This work was completed for the State of Wyoming's Abandoned Mine Land Program (AML) on pre-SMCRA (Surface Mining Reclamation and Control Act) sites for which no reclamation obligation existed. The project successfully stabilized an eroding spoil dump, enhanced the local view shed, created habitat diversity and provided a significant source of fill material for open pit highwall hazard mitigation efforts. Additionally, the project served to evaluate innovative reclamation design methods, engineering software and grade control technology. This project was nominated for a National Association of Abandoned Mine Land Programs award by the State of Wyoming.
Based on the successful application of this new mine reclamation technology on the AML 16N Project, this approach has been applied to various uranium, coal, and iron mine sites under the AML 17H, AML 16G-II, AML 16O, and AML 63-P3 projects and elsewhere. Mr. Hutson was project manager for the five Natural Regrade projects which have been designed and constructed within the Lionkol coal mining district under the 17H project. The AML program received a 2014 American Society for Mining and Reclamation (ASMR) special award for this project.
With over a decade of successful projects completed with geomorphic reclamation techniques, Mr. Hutson has documented the costs of geomorphic reclamation are minor compared to the benefits of the approach. AML has funded research projects through the University of Wyoming which have demonstrated that the geomorphic reclamation projects have better vegetative success and soil conditions than comparable traditional reclamation sites. Sage brush recovery and plantings have been successfully completed on the geomorphic reclamation sites and have enjoyed support from the BLM, WDEQ, Wyoming Game and Fish, and the Nature Conservancy.
Natural Resource and Environmental Permitting:
Mr. Hutson has provided technical assistance in the development of WDEQ Permits to Mine and USNRC Source Materials Licenses including design assistance for operations and restoration plans, permit preparation, evaluation of regulatory environments, geotechnical stability evaluations, and development of mining and reclamation designs for active and proposed mining operations.
Mr. Hutson's permitting experience includes completion of baseline studies (soils, radiology, hydrology, etc.) for mine permitting, coordination with specialists for NEPA clearances, preparation of Environmental Assessments, and obtaining construction permits including NPDES, SEO, COE, and others.
With respect to the Sheep Mountain Project, Mr. Hutson was responsible for open pit mine design and reclamation planning and scheduling. The final reclamation surface as designed would restore approximate original contours and featured Natural Regrade design to promote topographic diversity and long term stability.
Representative mine permit projects include:
Energy Fuels Resources (Formerly Titan Uranium, USA Inc.
Power Resources Incorporated
Uranium One
Representative mining and geologic resource reports include:
Co-Author of the Velvet Mine 43-101 report (Uranium – Lisbon Valley, Utah);
Preliminary pit design and mine scheduling JAB (Uranium – Wyoming), and
Preliminary pit design and mine scheduling Aurora (Uranium – Oregon).
Pit and heap design and mine scheduling Sheep Mountain (Uranium – Wyoming)
Civil Construction:
Mr. Hutson has experience in all aspects of residential construction and development projects including structural engineering, foundations engineering, architectural drafting and design, and construction on custom homes and upscale subdivisions; septic system design; soils testing including one dimensional consolidation testing, proctor testing, nuclear density compaction testing, percolation rate testing, and sieve analyses; slope stability investigations and estimation of engineering field parameters; and site inspections for quality control including footings, reinforcing steel, slab on grade, and foundation drains.
Professional Affiliations:
Professional Engineer, Wyoming
Professional Geologist, Wyoming
Registered Member of the Society for Mining, Metallurgy, and Exploration, (SME)
Member of the American Society for Mining and Reclamation (ASMR)
MSHA Certified
Publications:
Application Of Best Available Technology To Reclamation Design And Integration With Mine Planning, Sme, 2009
Advancements In Geomorphic Mine Reclamation Design Approach, Wyoming Abandoned Mine Land, Lionkol Coal Mining Distric, Sweetwater County, Wyoming, 2017